Lilac Tan Merle French Bulldog
If you are looking for a perfect companion for your family such as a French bulldog puppy, there are a variety of Lilac tan merle French bulldog for sale near you, but it is always advisable to take some research to find one that is right for you such as their history,grooming,personality. GlamorousFrenchBulldogs has helped many French Bulldog owners Find their ideal Frenchie or buy a new member of their family .We provide the largest collection of purebred AKC registered Lilac frenchie for sale in USA, and our specialists are skilled at finding the ideal family for each individual dog's special personality.
What is a Lilac tan merle french bulldog
To French bulldogs the rare and sought-after Lilac Tan Merle color pattern is evident. It is identifiable with its brown tips as well as a the light blue-gray coat that is complemented by darker marbling or blue-gray patches. Because of the recessive nature and nature of the gene responsible for this coloring when breeding two French bulldogs with this gene can increase the chance of being born with Lilac Tan Merle puppies.
Due to their limited availability, Lilac Tan Merle French bulldogs can be expensive as some breeders charge thousands of dollars for a puppy that is just born. It is important to be aware that untruthful breeders could take advantage of this colour pattern to sell unhealthy or poorly bred pups. Make sure you do a thorough research about the breeder and their practices prior to making a purchase.
Temperament of French bulldogs
French bulldogs are also referred to by the name of "Frenchies", are known for their playful and affectionate personality. They're a favorite breed because of their small size, their playful nature, and desire for humans' attention. Frenchies are generally cheerful and outgoing, making them excellent pet for the family. They can be a good companion for animals and children and aren't well-known for being aggressive or territorial.
Look at this Gorgeous pup!! She is a Mini Frenchie ready to impress. This gal is as social as they come sure to draw attention everywhere you go. She loves running around playing with the children she is currently being raised with. This little gal is vet checked, vaccinated, wormed and comes with a 1 year genetic health guarantee.  She is waiting to venture off to her forever home. Call about this cutie today!!!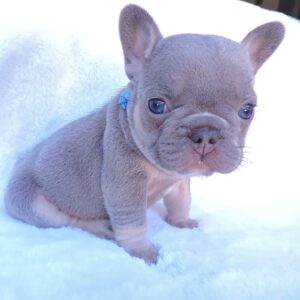 Female✅
Status: RESERVED✅
12 Weeks Old
Medium Size✅
AKC Registered✅
Health guarantee ✅
Current on all shots ✅
Microchipped✅
All paper work available ✅
Nothing cheap✅
Fore more information and inquiries Call or email us thanks 🐶😍