Fluffy frenchie puppies for sale
If you're in search of a loving addition to your family in the form of a French bulldog puppy,we offer a range of Frenchie puppies for sale such as the longhair or Fluffy Frenchie puppies for sale and the shorthair Regular Frenchies. However, it's important to thoroughly research the breed, including their background, grooming needs, and personality, to find the right one for you. GlamorousFrenchBulldogs has a proven track record of matching families with their ideal Frenchie. Our vast collection of purebred, AKC registered fluffy frenchie for sale is unmatched in the USA, and our team of experts is adept at pairing each dog with the right family based on their unique personality.
What are Fluffy Frenchie puppies?
So what is a fluffy frenchie puppies for sale or long-haired French Bulldog? Long hair in French bulldogs is the result of a rare autosomal recessive gene carried by the parents. In Andy's case, both of his parents have standard length coats, but they are carriers of this gene
A French bulldog puppy with a coat that is thicker and longer than what is considered average for the breed is often referred to as a "fluffy Frenchie puppy." French bulldogs are a little, stocky breed with a short, silky coat in most cases. A longer, thicker coat, on the other hand, may give certain people a "fluffier" appearance. For some people, this might be a desirable attribute, but it's important to remember that French bulldogs with long, thick coats might need extra maintenance to keep their coats in good shape. French bulldogs are adored for their friendly and playful nature, regardless of coat length or thickness.
He is a Fluffy Frenchie ready to venture off to his FUR-ever home. This cutie is social as can be and will surely be the center of attention everywhere you go. He will be the perfect addition to your house hold. This fella is being raised with children that play with him daily. He is vet checked, vaccinated, wormed and comes with a 1 year genetic health guarantee. Call about this amazing baby boy today!!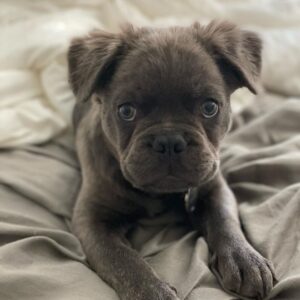 Male✅
Status: AVAILABLE✅
10 Weeks Old
Standard✅
AKC Registered✅
Health guarantee ✅
Current on all shots ✅
Microchipped✅
All paper work available ✅
Potty Trained✅
Fore more information and inquiries Call or email us thanks 🐶😍